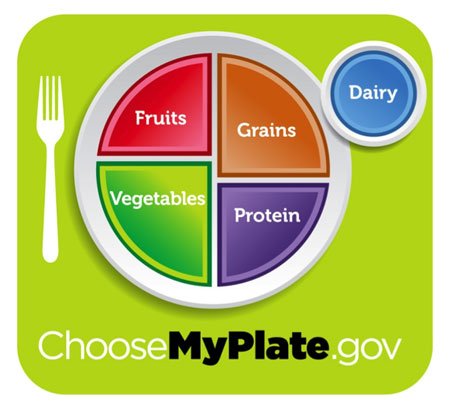 I rarely get hungry while counting calories.  One reason is, I don't just count calories.  I also keep up with various nutrition counts.  This is important to my overall health during this time of weight-loss transition. Staying nutritionally balanced each day probably keeps my body satisfied, too.  There are several nutrients that I monitor:
Fiber – I get 25 grams of fiber each day, without  fail.  It promotes a healthy heart and is healthy for the colon. Fruits, vegetables, beans, and whole grains are good sources.
Protein – It's not hard for me to get in my daily allowance of protein. I usually go over.  It is important for healing and I need 46 grams per day to maintain normal body function.  It is found in meats, fish, beans, eggs, dairy, as well as most vegetables. I use protein to combat the occasional hunger pang, too!
Fat – I have a current health issue which requires me to pay attention to my fat intake. I eat no more than 45 grams of fat per day, as suggested by my doctor. I eat as little saturated fat as possible. I switched to 1% milk. Most of the fat I get comes from that which occurs in the foods I am already eating.  For example, I choose the fat content present in a serving of my favorite whole grain crackers over adding butter and sour cream to my potato, most of the time.
Calcium – I take a multi-vitamin in the morning, which has 50% of my daily requirement.  But I get the rest of my calcium from the foods I eat. I do keep a bottle of low dose calcium supplements on hand and if I fall short at the end of the day, I take one before bed. This rarely happens though.  When I was drinking whole milk, I wasn't allowing myself to have that very often.  But a cup of 1% milk has only 110 calories and 30% of my daily requirement. Calcium is also found in vegetables and breads, etc.
At my age, I consider myself to be kind of fragile, especially in my current condition of unfitness.  The fifties seems to be when people start having more health problems.  I do want to lose weight, but I want to be very careful and prevent dangerous imbalances which might occur.  I don't believe I have the luxury to just jump into the latest fad diet.  I want to be very, very careful!  So I try to cover the nutritional bases as much as I can.