I ate a cinnamon roll yesterday. It was 450 calories and I counted it. In the end, I actually wound up having a perfect calorie counting day! Enough of that subject!  I would rather talk about this great holiday season.
Though I began this month feeling kind of like Scrooge, December has turned out to be a great month for getting things done. Some of my kids will be here for Christmas, so I want the place to sparkle! After all, why decorate the house if the house is a mess? It got a good cleaning. Yesterday and today we have been cleaning up outside. This evening we were ready to decorate the porch. It looks and sounds very festive 🙂 , with pretty lights and country Christmas tunes piped through the outdoor speakers. I'm sporting a spiffy new hair-do, which I love, thanks to my very talented niece. But my favorite project so far this season, has been the quail room, which our plumber dubbed, "the hen house".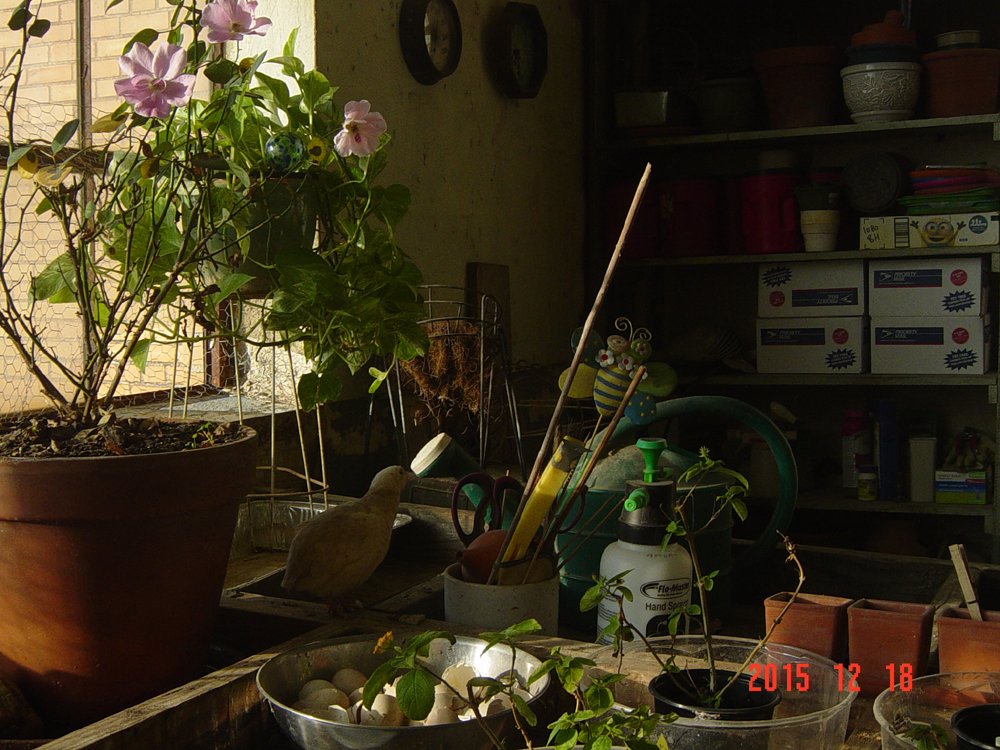 It was quite the mess, and took about a week to get into shape, but it has really turned out nice. About a year ago, Glenn hung 5 big Boston ferns from the 11 foot ceiling, along the 20 foot expanse of south exposure windows. They let in a lot of light.  So the ferns have done well, as have all the other plants. The roses, hibiscus, and lantana are blooming.  Our new little hens have been moved from brooder to cages and are just starting to lay their first eggs. All but a couple of roosters are in a separate pen.
The tornado from this past spring left some damage, and now, all the broken windows have been replaced.  New plumbing pipes were run to the room so it is super easy to water the plants as well as fill the buckets for the brand new watering system. Now the new little hens and roosters drink from a small, no mess cup, rather than the filthy jars they once used. A rat got in earlier this year, tore open some bags of mushroom compost and left some droppings. That's all cleaned up now.  As for the potting station, the soil amendments (including our first load of compost made with our new compost tumbler) are in nice, galvanized cans. And I've implemented a new system for cleaning cages that cuts way down on the mess and keeps life simple.
The retirees have a special deal. After my quail are one year old, I start a new hatch, and the old ones become members of the elite group who are allowed to live out the rest of their days cage-free, out in the room. I spread Aspen shred everywhere, and brought in piles of fresh cut winter grass for nesting. There is a plastic swimming pool full of sand and logs, for them to clean themselves. They have the water run-off in the plant saucers to drink. They eat very little feed in an arrangement like this, so they are not a drain, economically. The life expectancy of a quail is about 2 years and their egg production drops off drastically after about a year. The meat of an older bird is a bit tough, so I can't see the point of butchering them. And since I have the luxury of this room, it just makes sense to do it this way.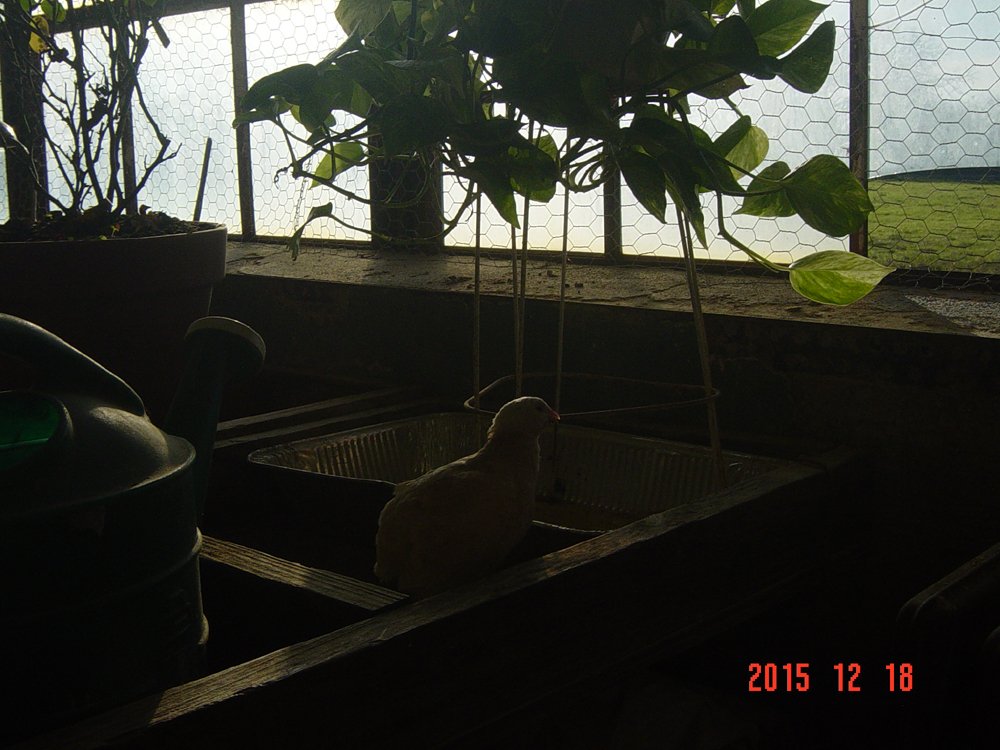 It's really a  pleasure to spend time here now. There are still more improvements to come but we got a lot of really good stuff done for the quail, this year. Now that we are at a stopping place, we can move onto the next project.  And we will be busy right up until everyone gets here. The honey room needs cleaning. There are tons of boxes to break down and shred in the hallway. Once that's done we can start a new load in the compost tumbler. I'm making the dressing, gravy, and carrots for the big family gathering.  And if there is any time left, I want to stock up my cottage kitchen.
Now that the kids are grown and gone, with full lives of their own, Christmas is quite different than it used to be; different, but still really, really good! It's been a joy getting things looking good and functioning around here, in preparation for our anxiously awaited guests. One last chance to make the most of a good year; the best holiday season I can recall in a long time.